OMG you guys seriously this week has been kind of hell on wheels for me, but in less than two days I'm going to IRELAND! WOO! So um. Here's a picspam to brighten up your week, whether it be gloomy or sparkly.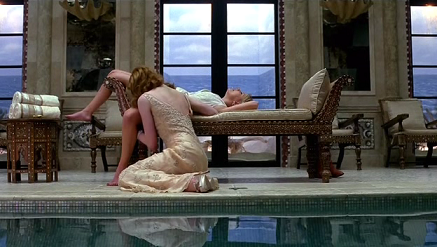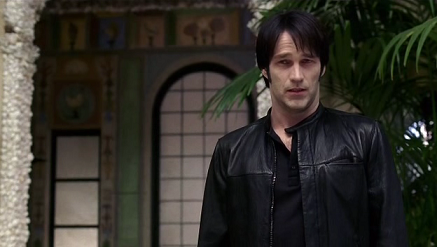 We open with Bill being his prudish ass self. Seriously have you ever heard of a vampire who considers eating someone out on a sofa/feeding a bad time to have a conversation? Seriously Bill. Remedial Vampire 101 RIGHT NOW for you! (professor: Pam, TA: Eric)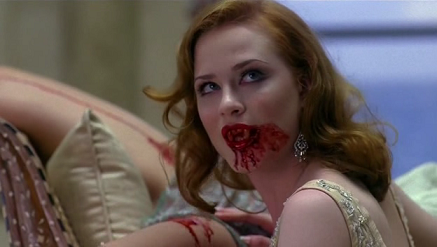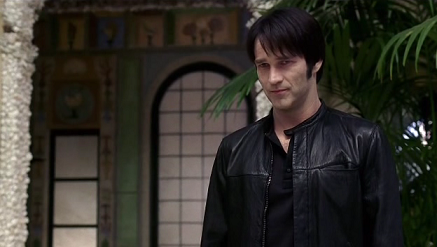 Sophie Anne: Wanna join me?
Bill: I'd rather chew off my own arm.
(BTW, you KNOW this is totally something Sophie Anne does with every guy who walks in to test his affection for the pussy. No desire to join her? MOAR SLAHY GOODNESS FOR EVERYONE)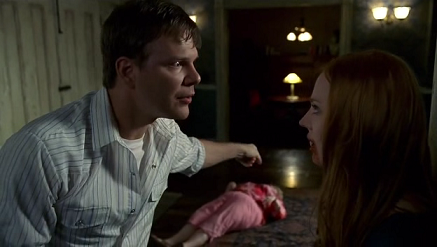 Hoyt: She's my momma Jessica! She's MEANT to be making my life miserable! I mean jesus where were you raised, like a functional family or something?!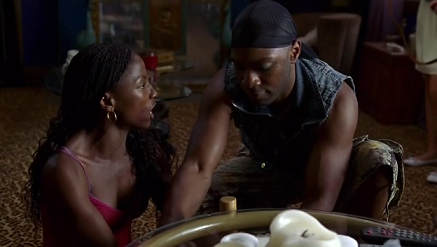 Tara: Y'ALL ARE JUST JEALOUS OF ME COS I FOUND MAH TWU VUW
Lafayette: I thought we weaned you off the weird shit, wtf?
Seriously, I can not believe Tara's angle is not, this is a person who is dear to me so I have to make sure he's OK, it's OH MAH GAWD MAH MAN IS IN TROUBLE. I mean, I can't believe that's
sane
Tara talking.
Lafayette: all I know is, if it's supernatural and it wants you, it ain't gonna wait for you to come to it.
AHAHAHAHA OH LAFAYETTE. SPEAKING FROM VIKING EXPEREINCE I SEE.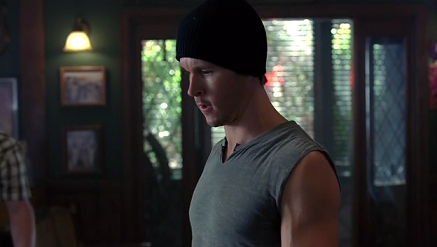 Jason: Guys, I read a book about this, this is Armageddon. This is the oral history of the zombie war!
The most hilarious part about that line is that you KNOW the book he's talking about having read is some portion of the bible.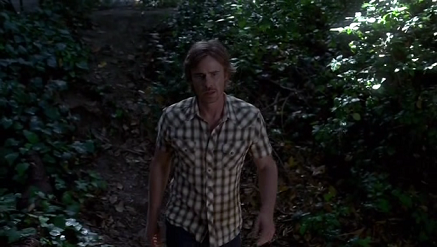 PLEASE GO INTO THE WOODS ALONE SAM WHEN RANDOM PEOPLE ARE PEERING AT YOU THROUGH THE WINDOWS. Not like you're hunted by every person in town or anything.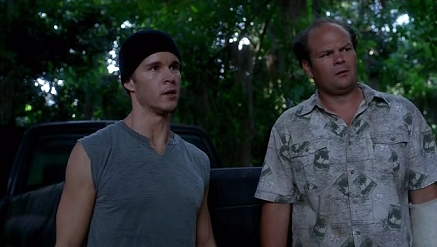 Jason: the time for thinking is over.
THIS NEEDS TO BE TATTOOED ON JASON'S FOREHEAD, Y/Y?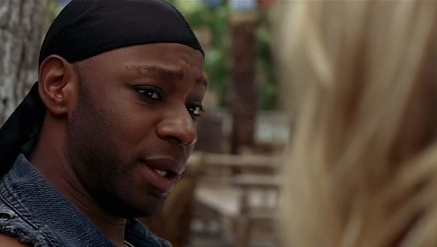 Lafayette: OMG Eric made you drink his blood TOO? Somebody need to slap that bitch.
I LOVE IT WHEN THE SHOW ACTUALLY DELIVERS THE KIND OF LINES I WOULD NORMALLY WRITE IN MY RECAP. &hearts Lafayette.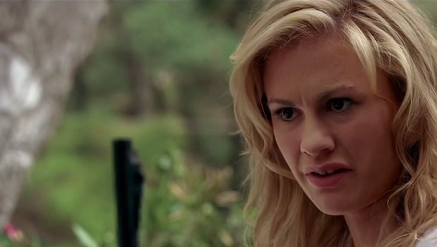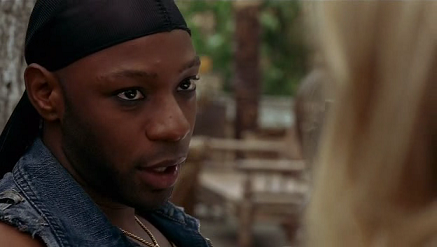 Sookie: have you had… dreams about Eric?
Lafayette: OMG HOW DID YOU KNOW?
Uh, bb. 1. mindreader, 2. WHO DOESN'T HAVE DREAMS ABOUT ERIC? SERIOUSLY? She could pose that question to everyone who's ever met him and have a 95% chance of a positive answer.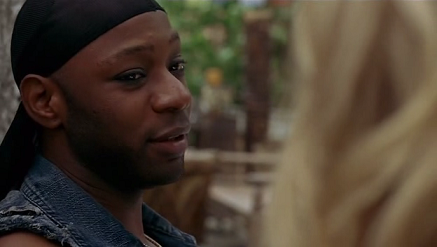 This is the face of Lafayette, remembering the sweet, nasty sexual acts Eric performs in his dreams. WE NEED SOME OF THOSE SEQUENCES ON SCREEN Y/Y?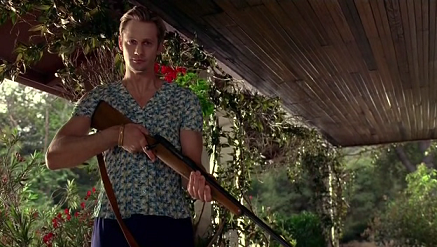 LADIES AND GENTLEMEN THE MOMENT THIS EPISODE BECAME EPIC.
It took my brain a few seconds to process that it wasn't Eric's head pasted on Lettie Mae's body but ACTUALLY ERIC WEARING A DRESS. Btw, consider how much taller Askars is than the actress who plays Tara's mom; either that skirt was basically a mini skirt on him or they had to get him a separate costume ahahaha.
Also, if you watch the scene carefully, you can totally hear Eric saying the first lines in your head, instead of Lettie Mae's voice. Or um, at least some of us who are rather obsessive about the show, can. Ahem.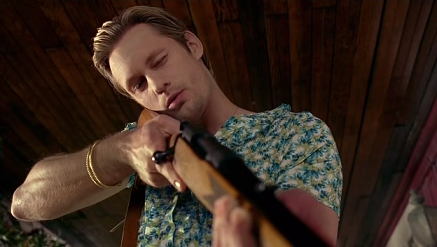 MY LOVE FOR THE GOLD BRACELET ON ERIC'S ARM KNOWS NO BOUNDS. Why was Tara's mom not wearing some horrible giant tacky hat? WHY?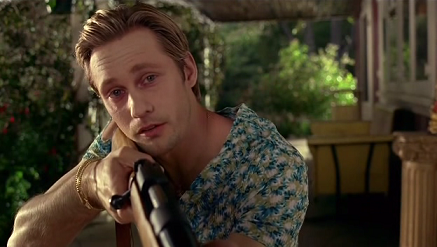 Eric: you know you feel with my
blood
inside you?
OH BB THERE IS A WORD IN THERE THAT NEEDS TO BE REPLACED BY ANOTHER WORD. THAT'S ALL I'M SAYING.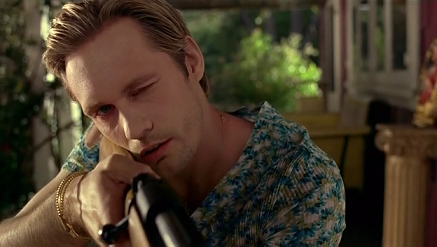 Eric: goodbye sweetheart.
OH GOOD JESUS. The alternative title of this episode is FANSERVICE and we haven't even gotten to the good Sophie Anne bits.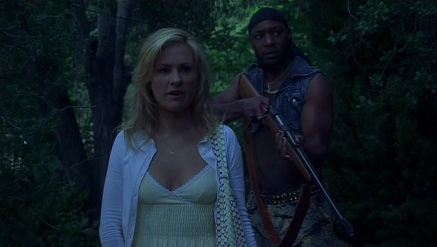 Sookie: OH MAH GAWD LAFAYETTE HOW COME SO MANY PEOPLE LIKE SEX AND VIOLENCE IN THIS WORLD?
I see the one writer who was fond of giving Sookie good lines is out of the writers' room this week.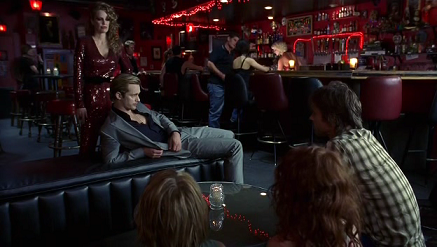 OK THAT POSITION COULD NOT POSSIBLY BE PHYSICALLY COMFORTABLE FOR ERIC. I'm just sayin. Either he was just doing it to be cool or his body works in some mysterious Vikings way unknown to us mortals.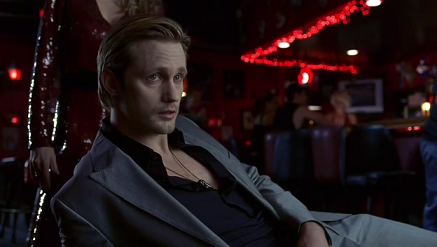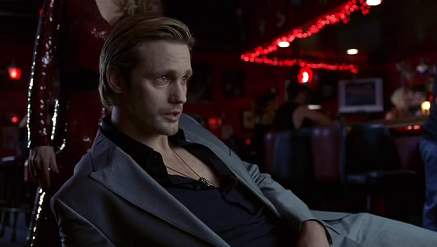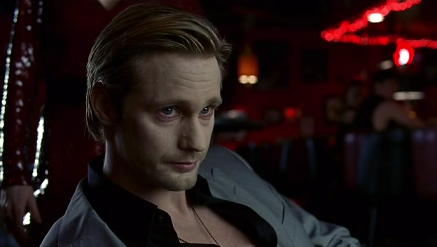 ASKARS HOTNESS AS PER YOUR ORDER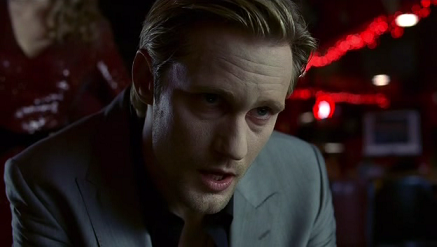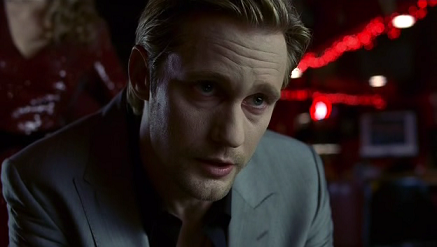 I do love that while Eric doesn't give a shit about all the people getting fucked over by Maryanne he
does
take the time to mention Sam's spotty record as an anti-vamp person. I love that Eric is so
consistently
snobby and elitist in preferring his own kind.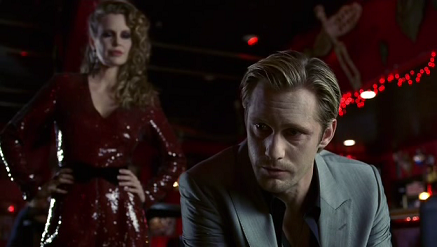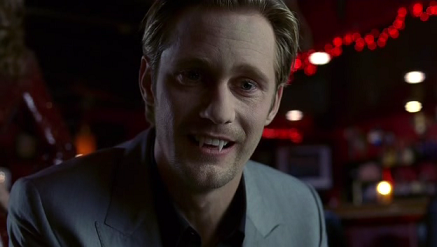 MOAR HOTNESS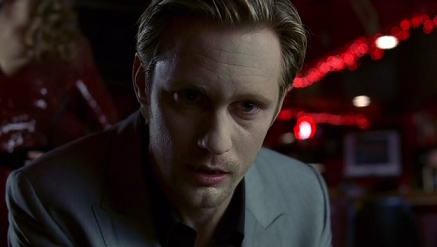 Eric: "don't you
like
vampires little girl?"
AND ONCE AGAIN, HE IS BASICALLY SPEAKING TO THE
WET PANTIES
FEMALE AUDIENCE PRETTY DIRECTLY HERE.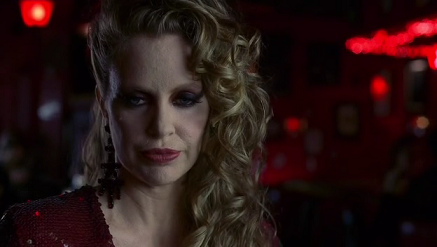 Cobby: he went on a vacation with Jesus!
Pam: you make me SO happy I never had any of you.
AHAHAHAHAHA <3 Pam. Seriously this year has been trying – first Eric gets obsessed with Godric and leaves Pam in charge of the club, alone; then he comes back all fucked up over Godric and in the interim there's all that ruined shoes business.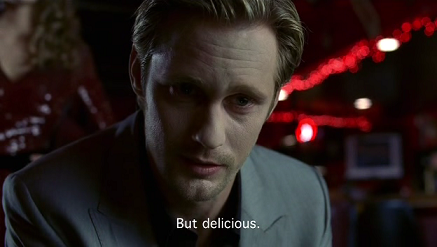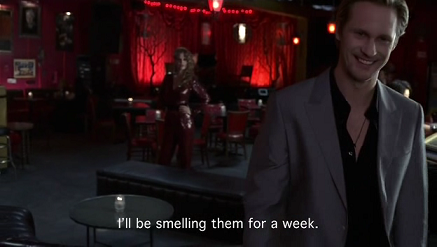 AHAHAHAHAHA CAPS OF AWESOME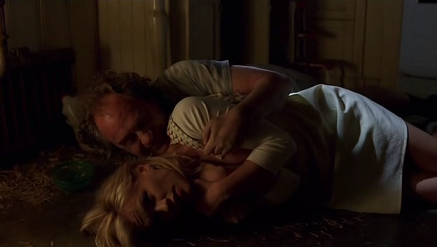 I think the truly worst moment this season for me, was the creeptastic characterization of Sookie as someone who, days after surviving an attempted rape, willingly, calmly laid down with a guy who is almost certain to rape her. REALLY, WRITER? REALLY? I expected better than this.
I don't even think any prior knowledge Sookie had of this guy would negate the threat, given his state.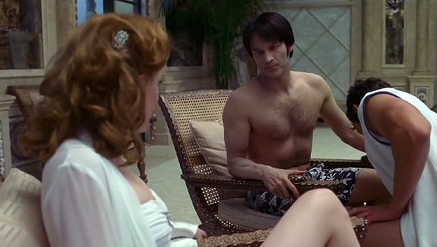 Sophie Anne: listen Billy, you're not leaving here until I see some cock on cock action, are we clear?
Bill: *gulp*
Sophie Anne: get to it, boys!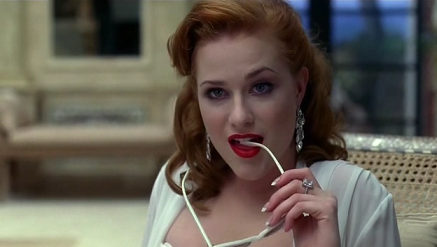 THIS IS THE FACE OF A FANGIRL ANTICIPATING SLASH. Seriously, DO NOT TELL ME Sophie Anne in this episode was not a Mary Sue insert for the slasher audience? (In the best ways, but you KNOW IT'S TRUE)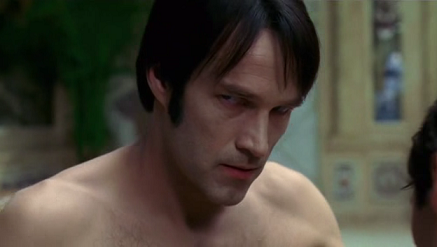 Bill does not appreciate your giddiness at his the possibility of his anus being penetrated.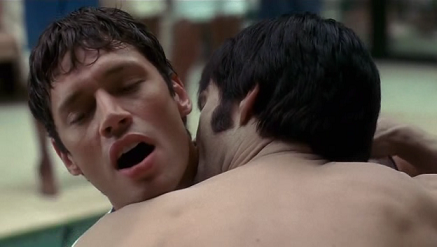 AND YET THE FANGIRLS WILL HAVE THEIR WAY. Btw, when the victim boy earlier said "I will have sex with you"… do you think he meant "in the other room"? Cos, I pretty much think all the sex at the queen's home happens in the queen's presence, possibly right there by the pool in front of the guards. SERIOUSLY THIS SHOW.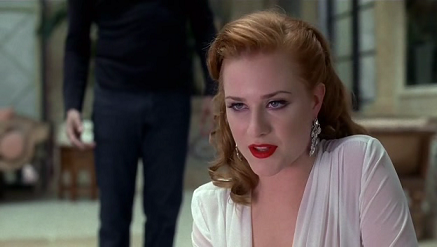 Sophie Anne: gods never actually come, they exist only in humans' minds. Like money and morality.
AHAHAHAHAHA OH SOPHIE ANNE. I actually really really didn't like Evan Rachel Wood's acting the first time around, am slightly less put off by it the second time around, but the CHARACTER of the queen is exquisitely written.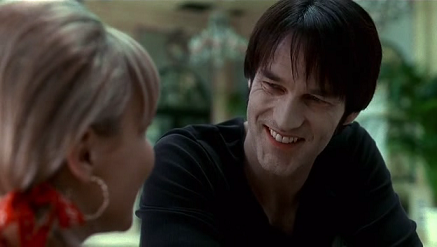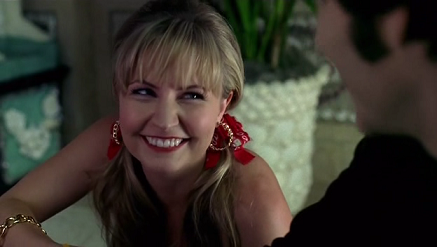 Hadley: So, how's my cousin Sookie?
Bill: Wow, I didn't know fang banging ran in families. SWEET.
I wonder if Jason's available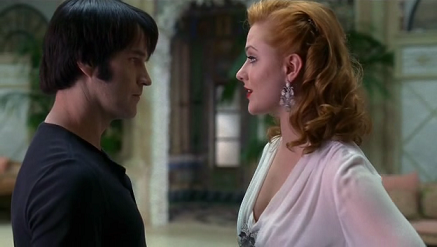 Sophie Anne: this alpha male posturing! You two should really just fuck each other and get it over with. I could watch!
LOOK THIS LINE IS TOO EPIC NOT TO HAVE A PERFECT RECORD OF IT SOMEWHERE. I HAVE NOTHING ELSE TO ADD, PLZ MOVE ON.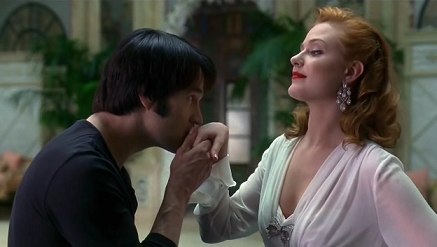 KISS THE QUEEN'S HAND BITCH. KISS IT BEFORE SHE ORDERS YOU ON YOUR KNEES WHEN ERIC COMES IN.
…Ahem. That might have been from my personal vault of Eric dreams. HE MADE ME DRINK HIS BLOOD OMG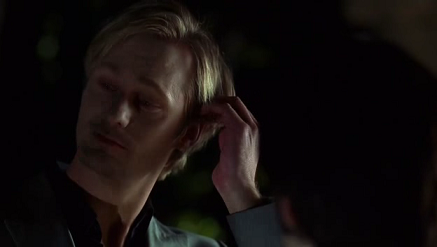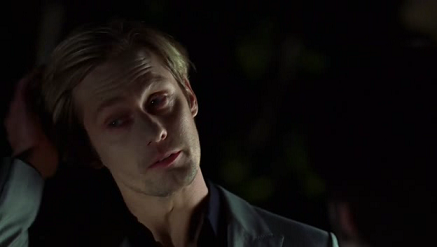 Bill: OMG ERIC YOU TOTALLY ONLY WANNA SAVE THE TOWN SO YOU CAN LOOK LIKE A HERO TO SOOKIE!
Eric: …Bill, I will now pretend to comb my hair – messy from flying with the top down – and pretend I didn't hear you acting like an insecure 14 year old. Not because I think better of you but because my face doesn't look as good when I'm crying tears of shame on someone else's behalf.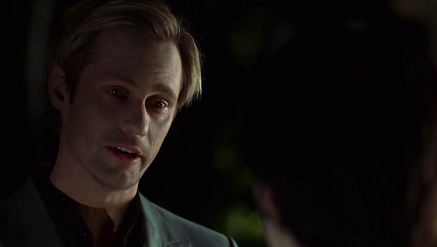 Bill: it's so desperate of you, feeding Sookie your blood to get her attracted to you.
Eric: Bill in WHAT UNIVERSE does anyone need a special elixir to be attracted to me?
(dialogue has no Bill cap; dialogue needs no Bill cap)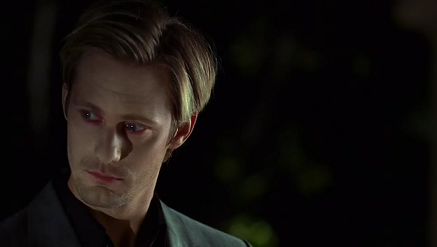 Bill: my only comfort is that the queen will have SO MUCH FUN with you tonight, omg.
Eric: *gulp*
Say what you will, but Eric is not a big fan of ~performing~ for anyone. Basically, I would PAY to see his interaction with the queen.
previous True Blood picspams